Frames for every style
Blink Eyecare's optical boutique has a wide selection of contemporary, classic, and designer frames for all ages, face shapes, and personal style statements.

Independent Brands
Independent Eyewear brands are focused only on one thing; eyewear. When a company's sole focus is on eyewear you'll find frames with detailed craftsmanship and innovative technology without a prominent logo splashed on the side. These pieces help you show off your individuality.
Wiley X
Article One
Shwood
Glen Lane
Eco
Modo
Maui Jim
Vernon Gantry
Erkers

Designer Frames
Familiar labels will help you identify the roots of designer glasses. You can quickly pick out what is sporty, vintage inspired, or on trend in fashion. We work only with manufacturers that don't compromise quality for a logo.
John Varvatos
Vera Bradley
Lucky Brand
Lilly Pulitzer
Jimmy Choo
Chris Craft
Draper James
Kate Spade
Dragon
Nike
Original Penguin

Kids' Frames
Durable frames with the styles your kids love and the safety and fit you need.
Miraflex
Penguin Jr.
My Little Pony
Tony Hawk
Babiators
Teenage Mutant Ninja Turtles

Lens Choices at Blink Eyecare
Lenses
After selecting your new favorite frame, it is time to choose the lenses. This can be overwhelming for many people. There are a lot of choices between lens materials and treatments. The expert opticians at Blink Eyecare will help you choose a lens to fit your individual prescription needs.
Digital Lenses
When the lab uses digital technology to surface your prescription into the lens, they will be six times more accurate. Freeform technology will reduce creating sharper optics for clearer vision. These high definition lenses produce a 20% wider field of best viewing area. Digital lenses can also be personalized to the individual wearing them. Custom digital lenses are made just for you and the frame you choose, like a tailored suit instead of one off the rack.
Lens Treatments
Anti-Reflective Coating: A non-glare treatment that allows more of the good light to enter the eye and reduce reflections. Reflections can come from fluorescent lights, digital devices, and night driving. Anti-reflective coating reduces eyestrain, fatigue, and cosmetically look better in pictures.

Standard Anti-Reflective: Coats the lens with a layer of non-glare treatment.
Premium Anti-Reflective: Most anti-reflective coatings used today are more than just a non-glare coating. They involve many different layers including scratch resistance, hydrophobic layer to resist smudges and repel water, blue light protection, and UV protection.

Photochromic: Adaptive lenses are clear inside and change to dark outside. Exposure to UV light changes the molecules in the lenses from clear to dark. This makes the tint variable depending on light conditions. Options include darker than the standard tint, changing from clear to polarized, or a special tint to enhance driving.
Lens Materials
Standard Plastic: A basic lens that is lighter in weight than glass but prone to chipping.
Polycarbonate: Thin, lightweight, and impact resistant. Good choice for most prescriptions and children.
Trivex: Newer material that still offers impact resistance while being lighter in weight than polycarbonate with sharper optics. Great choice for most prescriptions and children.
High-Index: Thinnest and lightest lens available. Best for high prescriptions.
Each lens materials can be made traditionally or with digital technology.
Modo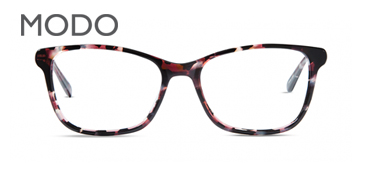 Buy a frame, give a frame
John Varvatos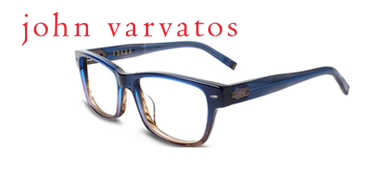 Michigan-native designer, rock-n-roll style
Article One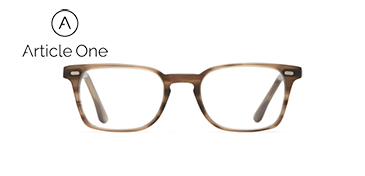 Founded by two Eastern Michigan University graduates to fight Vitamin A deficiency