Each year, on April 22nd, we take a day to celebrate the planet we inhabit and show our support for its environmental protection.  This is a time for us to increase our awareness of environmental challenges and, as a community, come together to help protect our planet.  This year, the focus of Earth Day is to Restore Our Earth.  But what does that have to do with glasses?
Sustainable Eyewear for Earth Day
At Blink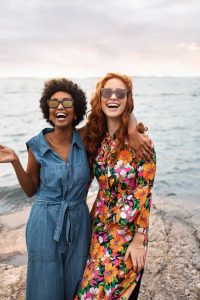 Eyecare we work hard to cultivate a collection of eyeglasses that reflect individuality, style, and even sustainability.  One of our favorite brands to achieve all of those is Eco.  Not only are the biobased frames sustainable (made from castor oil seed), but Eco has partnered with Trees for the Future.  This means that for every Eco frame purchased, a tree is planted.  Over 2 million trees have been planted so far!
Eco's newest partnership with Waste Free Oceans is turning the tide on ocean waste.  Waste Free Oceans collect plastic waste from the ocean.  They take used fishing net, ropes and trawls to a processing center.  From there it is sorted, cleaned, shredded, and dried.  It is then prepped with a stabilizer and pigment is added before it is made into plastic granules that are ready to be molded in a new pair of eyeglasses.
Eco doesn't just stop there with sustainability.  They take packaging into consideration as well.  Each frame is placed in a biodegradable cornstarch polybag (instead of a single use plastic bag), with a case made of recycled plastic, and shipped in an outer box made of recycled cardboard.
Focus On Restoring Our Earth
Want to help Eco Restore Our Earth?  Visit Blink Eyecare on Earth Day to pick out your new favorite pair of sunglasses from the Eco Ocean Collection.